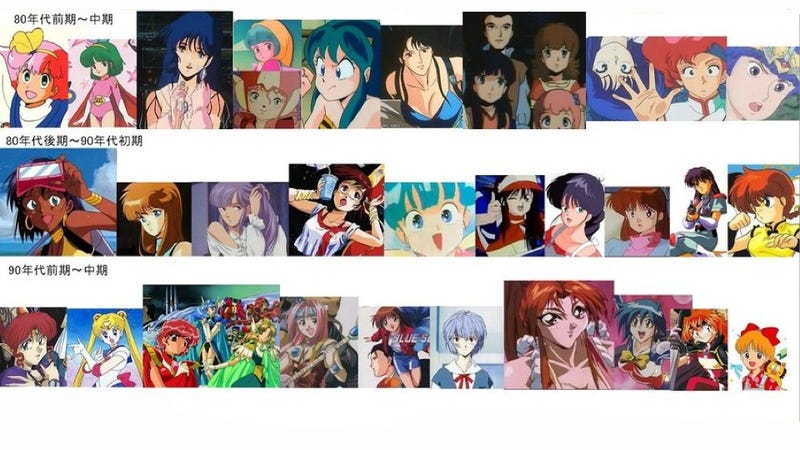 I went to a panel at Liberty City Anime Convention, where they discussed anime series from the 1980's. I thought that this was going to be an interesting panel and it was. The panelist, John Medero, mainly talked about series from the year 1987 which was a big year in anime history.  Some really great series came out that year but, he also discussed other popular anime series from the late and early 1980's and where are they now 30 years later. It made me think of how anime has changed over the years.
The animation style from back in the 1980's to now has drastically changed over the years. The graphics have become much more realistic, making the anime characters look more human, you are able to see all their curves.
Many fan favorites such as Dragon Ball Z, Mobile Suit Gundam, Fist of the North Star" that came out in the 1980s have changed graphic wise and popularity as well. Some shows have gained a big enough following to expand for over thirty years to present. Since the 1980s some anime series and movies have become so popular they expanded on the series. Sitting in this panel I got to see the shows that even from the 80's developed into a huge franchise many years later.
The biggest franchise, to me, even now is Hayao Miyazaki with his Studio Ghibli Films like "Castle in the Sky" which came out in the late 1980s. Dragon Ball expanded to many different series and it is still popular today such Dragon Ball Z and the current series Dragon Ball Super. This was one of his best films ever made, which was part of his amazing Franchise of films. Dragon Ball Z and Mobile Suit Gundam both became two huge franchise series. Everyone who likes Mecha knows of a Gundam and who has not seen an episode of Dragon Ball Z. The Mobile Suit Gundam series has grown huge their many sub series with Mobile Suit Gundam Wing being my favorite. There were many good series of anime that came out of the 1980's.
Here is a list of Soulcial Dreamin' Ent.'s top favorite 3 anime series of the 1980's:
Alice's favorite 1980's anime:
Dirty Pair Flash
Mobile Suit Gundam
Project AKO
Drey's favorite 1980's anime:
Castle in the Sky
Akira
Nausicaä of the Valley of the Wind
Lizzo's favorite 1980's anime:
Dragon Ball Z
Mobile Suit Gundam
Kiki Delivery Service (Based on Japanese Release)