Finally, we get to see another black superhero come off the pages. Black Lighting is the latest DC superhero to bless the TV waves, even though there has been little to no promo of the premiere of this show on The CW the internet will not let you forget that there's another black superhero we need to support. I haven't seen much of any promo for this series until about last week on my way home I noticed a Subway advertisement finally showing Black Lighting. If you're new to Black Lighting don't feel bad about it because I discovered Black Lightning about 3 years ago while looking for more black superheroes, I'm happy to see this character come to life because when I found him I then started reading up on comics he appeared in and started falling in love with the backstory since it's really relatable to the average city life minus the superpowers.
Jefferson Pierce (Black Lighting played by Cress Williams) lives in the section of Metropolis they call Suicide Slum and that alone made me want to read up on him because in Brooklyn where I grew up Bed-Stuy has a tagline that is quite hard to forget and easily associated with the crime that Brooklyn is known for. The infamous tagline is Bed-Stuy do or Die, No idea why anyone would ride for the same streets that would turn their back on you in a split second but then again I was never really into the street life to understand why risk your life for "family" that wouldn't do the same for you in return. That enough made me interested in him, from the jump I already felt like I would understand this character from living in a similar environment.
Black Lighting has a family he protects, Two daughters Anissa and
Jennifer and his ex-wife Lynn. Both his daughters inherit his powers and I'm excited to see how their characters play out in the show. The youngest daughter Jennifer Pierce is played by China Anne McClain who we know from Tyler Perry's Daddy's Little Girls and Disney Channel's A.N.T. Farm. Anissa Pierce is played by Nafessa Williams who played in a few soap operas and movies you may have seen. I have to mention Cress Williams again because I believe everyone has seen him a few times in the many roles he's played throughout the years and when you see his face again you'll remember him from somewhere and just remember almost everybody has been on Law & Order.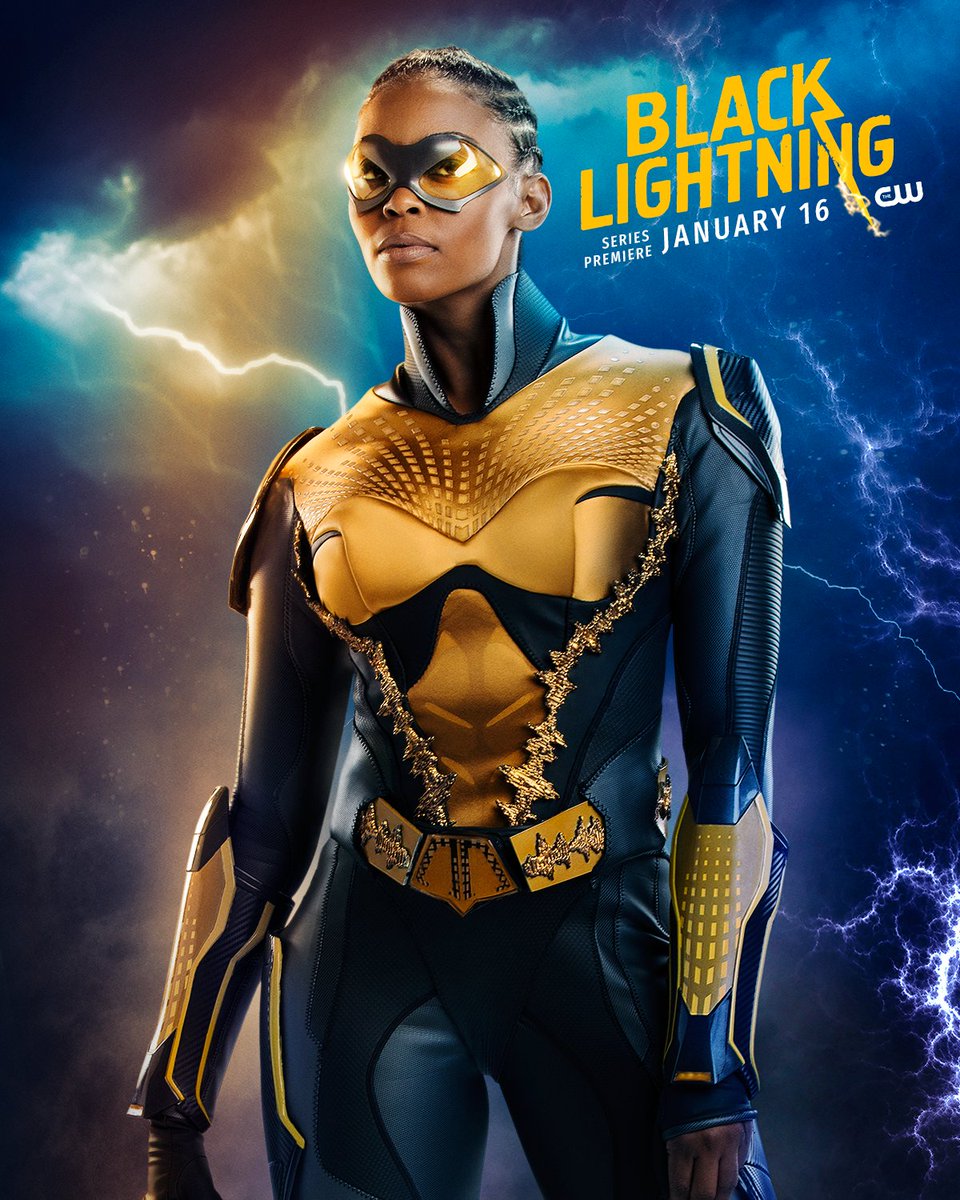 What a lot of people will find refreshing is Anissa is in a relationship with one of her teammates Grace Choi played by Chantal Thuy. This will be interesting to see play out is their relationship on screen and TVs reputation for killing off LGBT characters. A few shows that many of us watch have seen the death of just about every LGBT character and I will have to say it will be sad to see one of these characters die off since we hardly get to see Asian characters on TV and an interracial relationship that doesn't involve a white person, I have high hopes for these two characters and I hope their storyline together isn't cliche but we'll be watching.
I really hope this series can do amazing
since a lot of black superheroes don't get the chance to get off the comic pages and sometimes when they do their story is amazing than thought out before because of the actors/actresses portraying them. Black Lightning Premieres on The CW Tuesday, January 16th, I'll be tuning in and I hope many of you will as well. We get another opportunity to see more POC portrayed as superheroes let's make it count and support this show. Let's make TV producers know that more diverse TV is the way to a viewers heart.
Here's the trailer for the series