Viola Davis
Viola Davis has always been an inspiration to me and nothing short of amazing. Viola is a successful woman in the entertainment world, her acting has been some of the most incredible performances we've seen in some time and she's vocal in her activism about equal pay and women's rights which made me put her on a pedestal I can't seem to take her off of.
Viola is in a lane of her own when it comes to standing up for what she believes in because she's only one of the few actually out talking about it. Viola radiates a confidence that no one can touch, It's a goal to reach that height of self and go off to slay every day of life. Changing the face of beauty each time she comes on screen or on the red carpet, Giving Hollywood a run for their money seems to be her never-ending talent.
Viola has really helped me shape my life in a different way going through the world as a Black Woman. Viola has shown us what a confident and proud Black Woman looks like every time we see her, Nothing can make her stop thriving to be a better version of herself and seeing someone that looks like me accomplish so much of what she wanted out of life only pumps the motivation I need to go forth and follow my dreams.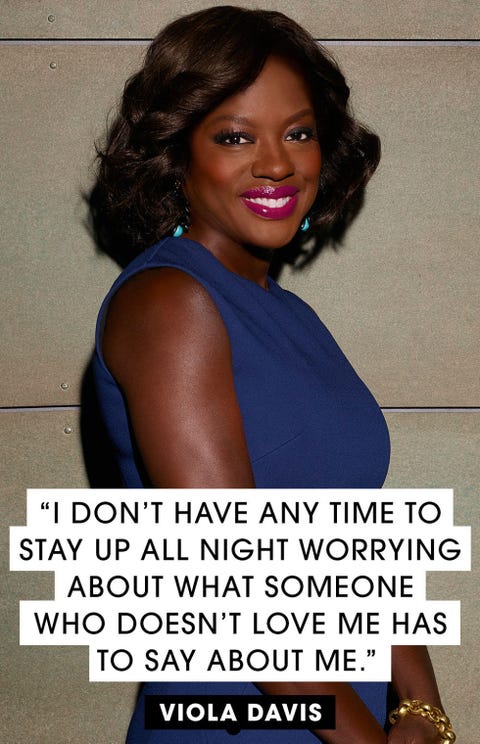 "I don't have any time to stay up all night worrying about what someone who doesn't love me has to say about me."  –  Viola Davis
This by far is one of my favorite quotes from an interview she did and that line alone made me really stop caring so much about what others thought about me since their feelings or time was never invested in me, to begin with. Here's a link to an Elle article that I have bookmarked and I continually go back to when I need a quick pick me up. When I say she's an inspiration to me it's so serious that I love Viola and support any and everything she attaches her name to because it will be something amazing from one of my personal heroines, I'm happy to say I've never been disappointed and probably never will be.