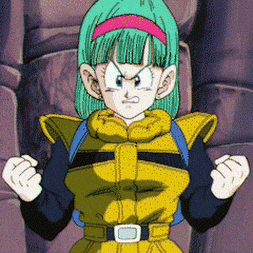 The next person I chose is Bulma from Dragon Ball Z. She is a brilliant scientist and a wonderful mother. She is the second daughter of Dr.Brief and his wife Panchy. She works with her father at his company Capsule Corporation. Bulma is Goku's first friend and tighter they went on many adventures in Dragon Ball to Dragon Ball AF series. No matter the universe Bulma is always the same. Bulma managed the impossible and became the wife of Vegeta and became the mother of Trunks and Bulla. Even though she can't fight she does her best to help out.
Bulma is a great inspiration to many, she is not only a great mother but also a great companion whenever you need help. Even though Bulma is not a fighter she always tries her best to help everyone with hunting down the Dragon Balls or building a hydraulic chamber to train. She always does what she can, Bulma is a great inspiration to everyone.
I will also like to make an honorable mention to the voice actor of Bulma who passed away last year on Nov. 16th, 2017. Hiromi Tsuru was well known for her voice of Bulma for over 31 years she played the role. She was represented by the Aoni Production company. She was well known for her role as Bulma and will never be forgotten. No one has done a better job at voicing Bulma than her. She has done other voices for different anime series but, she always is remembered as the voice of Bulma.